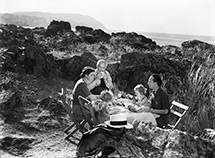 Shot in the summer of 1949, To Joy is about a mediocre violinist in a symphony orchestra who dreams of a successful solo career while having to deal with rumblings of disquiet in his marriage. Classical music is central to the film, which features long scenes from rehearsals and concerts. In the words of the conductor (Victor Sjöström), it is 'a joy so great, so particular, that it lies beyond pain and boundless despair … a joy beyond all understanding'.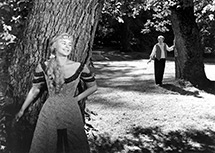 This elegant marital comedy, in which gynaecologist David Erneman (Gunnar Björnstrand) follows his wife Marianne (Eva Dahlbeck) to Copenhagen en route to meet her lover, was shot in several locations throughout Skåne, including Ramlösa, Pålsjö Forest and Arilds Nabb. The action alternates between the present and the past.
Points of interest:
Nils Poppe, the comedian who ran the Fredriksdal Theatre from 1966 to 1994, appeared rather unexpectedly as an actor in Bergman's Seventh Seal and The Devil's Eye.
The popular Fredriksdal Theatre was founded in 1927 and held its first performance on 27 July, 1932. It is located in Fredriksdal's Open-Air Museum, which was, in 1918, donated to the city of Helsingborg by Consul Trapp's widow, Gisela Trapp. Now run by Eva Rydberg, famous Swedish actress and theatre director, the theatre performs to capacity audiences every summer.