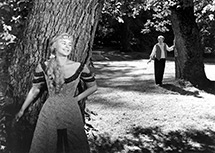 Bergman made his international breakthrough with this romantic turn-of-the-century comedy replete with razor-sharp wit, cunning mistresses, jealous lovers, partner swaps, love potions and duels. Bergman's funniest film, it won awards at the Cannes Film Festival and generally received outstanding reviews.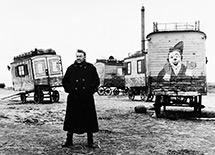 One of Bergman's most important films, Sawdust and Tinsel, is about a tawdry circus troupe on a disastrous visit to small-town southern Skåne. Ystad plays the role of small-town Skåne, and several scenes were filmed on location, including, for example, in Lilla Östergatan and Tvättorget – where the circus company draws up its horses and carts in the hope of attracting an audience for the evening's performance.
Points of interest:
One of the greatest actors from the silent age came from Ystad. Born in 1888, her name was Anna Q. Nilsson. She performed in more than 200 films, many of them silent movies, and was voted the most beautiful woman in the USA.
Ernst-Hugo Järegård, a famous Swedish actor, came from Ystad.
The books written by Henning Mankell about Detective Inspector Kurt Wallander take place, to a large degree, in Ystad. The TV series was also recorded here, as well as the British version with Kenneth Branagh in the lead role. There is mention in the books of Wallander living on Mariagatan and having coffee at Fridolfs Konditori.
Hôtel Continental du Sud (now Hotel Continental) opened in 1829 and is Sweden's oldest hotel.