Arild is a village situated in the municipality of Höganäs on the southern shores of Skälderviken at the foot of Kullaberg. In 1907, the then royal photographer Peter P. Lundh described it in the following terms: 'With Kullaberg's slopes as its backdrop and the sunny, rounded bay of Skälderviken ahead, the location of the town is unparalleled. Unlike most other seaside resorts, it has retained its idyllic, antiquated character and its old farms surrounded by lush greenery.'
With its pebbled beaches and sea stacks, the coastline at Arild represents a distinctive feature of the landscape. In between Arild in the west and Skäret in the east is the Nabben Nature Reserve. Well-known in Sweden as a tourist destination since the 19th century, both Arild and its sister village Mölle were holiday resorts for the fashionable elite from the late 19th century until the mid-20th century.
Nabben provided the setting for three of Ingmar Bergman's films: To Joy, Sawdust and Tinsel and A Lesson in Love. During the time he was working at the Helsingborg City Theatre (1944-1946), it is easy to imagine him driving around the area committing to memory the locations that made a particularly strong impression on him – like this rocky little peninsula, with Kullen brooding in the background. For him, they represented an inhospitable form of nature which he could present as rather raw and unpleasant, a style which he later refined at Hovs Hallar and, ultimately, at Fårö.
One can speculate as to whether Bergman returned to the area because it was perfect for his needs or simply because he was running short of time – given how prolific he was during this period – and knew that it would work. In any case, he asked that his props and heavy equipment be dragged down here for every day of filming.
During the filming of Sawdust and Tinsel and A Lesson in Love in 1953 and 1954 respectively, Bergman and his team stayed at Julia Lundgren's guesthouse (which had opened as a patisserie in 1911) on the south side of Arild's bus station. Bergman, who was at the time in a relationship with Harriet Andersson, stayed in the tower room.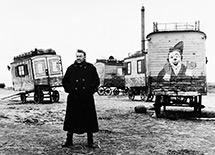 One of Bergman's most important films, Sawdust and Tinsel, is about a tawdry circus troupe on a disastrous visit to small-town southern Skåne. Ystad plays the role of small-town Skåne, and several scenes were filmed on location, including, for example, in Lilla Östergatan and Tvättorget – where the circus company draws up its horses and carts in the hope of attracting an audience for the evening's performance.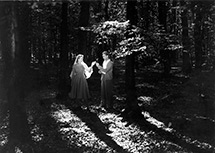 This elegant marital comedy, in which gynaecologist David Erneman (Gunnar Björnstrand) follows his wife Marianne (Eva Dahlbeck) to Copenhagen en route to meet her lover, was shot in several locations throughout Skåne, including Ramlösa, Pålsjö Forest and Arilds Nabb. The action alternates between the present and the past.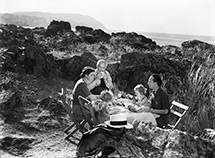 Shot in the summer of 1949, To Joy is about a mediocre violinist in a symphony orchestra who dreams of a successful solo career while having to deal with rumblings of disquiet in his marriage. Classical music is central to the film, which features long scenes from rehearsals and concerts. In the words of the conductor (Victor Sjöström), it is 'a joy so great, so particular, that it lies beyond pain and boundless despair … a joy beyond all understanding'. 
Directions:
Nabben can be reached via the entrance to the nature reserve on Nabbenvägen. Follow the road across a couple of fields before taking the small path down to the sea.
Points of interest:
The crowds that gathered in Arild were more aristocratic than those in Mölle, taking walks and enjoying a traditional family life. Summer guests in Mölle were known to ask for poste restante addresses in Arild so as not to be associated with the sinful activities of the neighbouring town.
Carl Linnaeus also spent time in Arild, as he reveals in Skånska resa (A Trip to Skåne), his book about 'Arillsläge' written in 1751.
Nabbahögarna, a group of well-preserved burial mounds from the Bronze Age, can also be found in the area.
In 1958, several businesswomen financed the building of a lighthouse in Arild by raising money via their sewing group, the Monday Club.
A hiking trail leads through Nabben to Skäret, which is home, for instance, to Flickorna Lundgren's coffee shop and the restaurant Rut på Skäret.