A coastal area with dramatic cliff formations, Hovs hallar is located on the tip of the Bjäre peninsula in north-western Skåne. It represents the outermost point of the Hallandsåsen Ridge to the west. This place lies by the sea between Båstad, film location for Axel Petersén's Avalon and final resting place for Bo Widerberg, and Torekov, the summer resort in the Swedish TV series and feature film Solsidan. Roughly hewn precipices sweep down onto pebbled beaches here, giving the area a wild and desolate feel.
When Bergman opted to distance himself from the idealised portrayals of nature that were typical of the 1940s, this particular location provided him with the perfect backdrop for his menacing symbolism and characterisations of suffering. Here, in an area encompassing three small rocky beaches (it is difficult to determine exactly which ones were used), he chose to film both the iconic scenes from The Seventh Seal and the exterior shots from Hour of the Wolf.
It is said that Bergman was very close to buying a house on the Bjäre peninsula. Instead, he ended up at Fårö, where the natural surroundings were similar to those he had encountered in Skåne.
Hovs hallar has made numerous appearances on film; for example, as a substitute for Svalbard in Jan Troell's Flight of the Eagle (1982). Some scenes from Arne Mattsson's Salka Valka (1954) were also filmed here.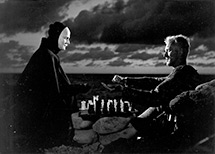 On the advice of Bibi Andersson, Bergman decided to abandon the light comedies to which he had devoted himself over a number of years. Instead he engaged in making this existential film, set in the time of the plague, about a brooding knight who plays chess with Death and meets, among others, a troupe of minstrels. The Seventh Seal was to become a favourite of the director himself and it is the Bergman film to which most reference has been made in popular culture.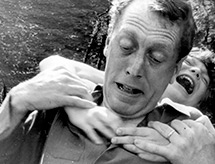 This film, which was temporarily shelved in 1965 when Bergman contracted pneumonia, is about the reclusive artist Johan Borg (Max von Sydow) who, along with his wife Alma (Liv Ullmann), retreats to a small island in the archipelago in the hope of finding inner peace. He is nevertheless afflicted by nightmares, anxieties and the demons of his own failing artistry. 
Directions:
From road 115 between Torekov and Båstad, two roads lead off in the direction of Hovs hallar before eventually converging into one. This then leads to Hovs Hallar Hotel and Restaurant and a car park. Follow the path from the car park down to the sea. The area is a nature reserve with a 3-km-long hiking trail and access to Skåneleden, a popular hiking trail.
Points of interest:
Hallar is an old term for flat rocks, after which the neighbouring province of Halland is named.
Hovs hallar is an excellent location for watching seabirds. On blustery days, birds such as auks, shearwaters, skuas, storm petrels, kittiwakes, fulmars and gannets can be seen here – and even, as in 2001, the occasional albatross. Steep cliffs plunge into the sea at Arilds Port, a landmark formation of rocks ranging from ten to thirty metres in height. One particular rock – the only one of its kind – is popularly used for diving and is between 4.5 – 5 m tall.