Jordberga Castle is located in the Söderslätt district in the municipality of Trelleborg. The main building is a baroque construction, while its gardens are in the 19th-century English style. Within the grounds of the estate are the remnants of the Jordberga sugar mill demolished in 2009-2010 – and a windmill.
The first written mention of the castle dates back to 1355. The estate was bought in 1811 by the regional governor Erik Reinhold von Nolcken before being inherited by his son Carl Adam von Nolcken and thereafter passed down through the generations.
In the mid-1830s, Carl Adam von Nolcken was a student at Degeberg, Sweden's first agricultural institute. Here, he learned about the newest advances in the field of agriculture and immediately began introducing these methods on his own estate. Jordberga became a model farm and a meeting place for local farmers. Nolcken's social philosophy was that, since the various classes were dependent on each other, they were obliged to work together in order for society to function. Landowners were, therefore, responsible not only for the material welfare of their subordinates but also for their spiritual 'nourishment'. With this in mind, he established a poorhouse, founded two schools and built parish libraries. He also initiated the formation of the Wemmenhögs Härads Savings Bank in 1849.
Here, on this forward-thinking yet traditional estate, Ingmar Bergman found the perfect environment for the magnificent denouement of his comedy Smiles of a Summer Night.
Today, Jordberga Gård is a modern farming company engaged in crop and energy production (straw, biogas, wind and solar), property management and environmental and game conservation. It also offers all-year-round rented accommodation, farm buildings and conference venues such as the Jordberga Park Hotel, with facilities for cultural events, weddings, parties and meetings.
The main building and six others on the estate are classified as listed buildings. The English-style park with its many exotic trees is open to visitors in conjunction with the staging of cultural events.
Shot at Jordberga Castle: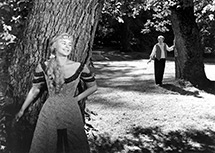 Bergman made his international breakthrough with this romantic turn-of-the-century comedy replete with razor-sharp wit, cunning mistresses, jealous lovers, partner swaps, love potions and duels. Bergman's funniest film, it won awards at the Cannes Film Festival and generally received outstanding reviews.
Directions:
Jordberga is located in the Söderslätt district on road 101 between Anderslöv and Skivarp, around 35 km from Malmö and 25 km from Ystad.
Points of interest:
In the early 1830s, Carl Adam von Nolcken boarded in the home of the poet Erik Gustaf Geijer, where he came into contact with many of the most brilliant cultural figures of the age, such as Hans Christian Andersen and Esaias Tegnér, a Swedish writer. He maintained a great interest in art and literature and, over time, acquired an extensive collection of books.
In the park, there is a runestone from the Viking Age known as Källstorpstenen.
Bo Widerberg's Elvira Madigan was also filmed in a number of locations in Söderslätt including, on some occasions, at Jordberga, with the team usually hanging out at the hotel and restaurant Skanörs Gästis in the evenings.