Pålsjö Forest is a deciduous forest and a popular hiking area in the northern part of Helsingborg. Since 2016 it is also a nature reserve. The forest makes up part of Landborgspromenaden (a 13 km hiking route through Helsingborg) and also therefore of Skåneleden. Through the forest, two streams run down towards the Öresund in ravines. These then join together at the foot of the ravine to the west, where water gathers in a pond by the Pålsjö Mölla water mill. The ravine also accompanies the forest down to the foot of Landborgen next to the beach and Pålsjöbaden. In the middle of the forest is Skogspaviljongen, a pavilion built in 1914 based on drawings by Sigurd Lewerentz and Torsten Stubelius.
The area takes its name from Pålsjö slott, a manor which is located in the north-western corner of the forest. North of the manor is the Villa Thalassa Hotel and Conference Centre.
Dag Hammarskjölds Väg leads through the forest and past Villa Thalassa before winding up through the ravine into the forest and along the edge of Landborgen as far as the field named "Gamle Kungens fårahage".
Gunnar Björnstrand and Eva Dalhbeck drove along this road in Bergman's A Lesson in Love. The forest is employed in several scenes to portray flashbacks in the lives of the main characters. Rarely has the sun's light filtered down through foliage in a more idyllic fashion.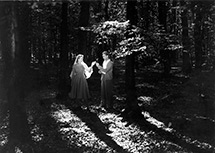 This elegant marital comedy, in which gynaecologist David Erneman (Gunnar Björnstrand) follows his wife Marianne (Eva Dahlbeck) to Copenhagen en route to meet her lover, was shot in several locations throughout Skåne, including Ramlösa, Pålsjö Forest and Arilds Nabb. The action alternates between the present and the past.
Directions:
The forest is located in north-western Helsingborg. Cycle or walk here, for example, along the Landsborgpromenaden trail from central Helsingborg. Take city bus 3 or 6, which stop just outside the southernmost tip of the forest, or city bus 8, which stops a short distance from its northernmost area.
Points of interest:
Hans Alfredson's 1996 novel The Attack in Pålsjö Forest takes place here. The railroad track that runs through the forest features in this counterfactual story of an attack on a train carrying Nazi soldiers on its way from Germany through Sweden to Norway. The incident later draws Sweden into the Second World War and leads to the country being occupied by Hitler's troops in revenge for the attack.
The book gained attention for its reference to Per Olof Sundman and Ingvar Kamprad being Nazis in their youth.
At the entrance to Villa Thalassa is a bronze medallion depicting Dag Hammarskjöld. Hammarskjöld was linked to Helsingborg through his father.
In the summer, Skogspaviljongen is a waffle-lover's paradise.