Norrviken Gardens is a 14-hectare garden complex outside Båstad. It was created in 1906-1920 by Rudolf Abelin, horticulturalist and pomologist, who had been forced to abandon his original site north of Norrköping. Abelin came to Båstad in 1905 on the advice of Ellen Key and his childhood friend Ludvig Nobel. Båstad was already, by then, a fashionable resort that attracted figures from high society and cultural circles. The area was also blessed with a favourable climate for plant growth since it offered both moisture from the sea and protection from the wind.
Initially serving as a home to the well-travelled Rudolf Abelin and his family, Norrviken Gardens included an orchard, an Italian baroque garden, a renaissance garden, a cloister garden, an oriental garden and a Japanese garden. The main building, Villa Abelin, today houses a shop, a restaurant and an art gallery.
Here, Bergman found the perfect location for his comedy All These Women, the first film he made in colour. The different spaces within the Gardens fitted well with the film's farcical plot, and its exterior shots were filmed here.
Shot at Norrviken Gardens: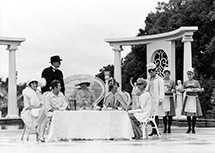 All These Women is a light-hearted comedy about a virtuoso male cellist who lives, surrounded by women, in a magnificent house, the Villa Tremolo. Here, he is joined by Cornelius (Jarl Kulle), a conceited music critic, whose task is to write his biography. Although a private audience with the great man proves hard to come by, the beautiful women are rather more accommodating.
Directions:
Norrviken Gardens is located on Kattviksvägen on the outskirts of Båstad.
Points of interest:
In 1900, Rudolf Abelin's exemplary collections of giant fruit won him a gold medal and an honorary Danish award at the Nordic exhibition in Malmö, while his original garden was awarded the highest commendation at the World Exhibition in Paris that same year. Norrviken Gardens outside Båstad became one of the largest and best fruit producers in the Nordic region.