Övedskloster Manor lies on the banks of Vombsjön in the municipality of Sjöbo and is one of Sweden's foremost buildings in the rococo style. The medieval monastery which stood here originally was closed down during the Reformation, and, after first being confiscated by the Danish crown, the area eventually came under private Swedish ownership.
Övedskloster has, in various forms, been around for around nine hundred years. The monks who first settled in the monastery came from Premontré in France. Although relatively little is known about this period, the fact that the monastery eventually came to own many farms and a great deal of land would seem to indicate that it flourished. No visible features of the monastery remain – nor indeed many illustrations depicting what it might have looked like.
In 1666, the property was purchased by Field Marshall Carl Mauritz Lewenhaupt and, in 1753, by Hans Ramel, who was Skåne's greatest landowner at that time. Commonly known as 'Hans the Builder', Ramel also owned other farms such as Maltesholm, Hviderup, Västerstad, Löberöd, Svansjö and Tullesbo. He contributed greatly to the development of Övedskloster, demolishing the previous buildings and building a new manor in the 18th-century style. He was also responsible for the planting of vegetation and laying of roads which helped turn it into a modern agricultural enterprise.
Ramel founded an entailed estate out of Övedskloster and its subsidiary properties, which meant that the manor could not be sold but would instead be passed on in its entirety from father to oldest son. The current owner is the tenth in the line and is also named Hans Ramel.
Övedskloster provided Bergman with the proper, rather austere environment that he needed to portray the home of Count Malcolm and his wife Charlotte. It is possible that he found the location two years earlier while spending time in the Ystad area during the filming of Sawdust and Tinsel.
These days, Övedskloster is a modern farming operation that spans 3500 hectares and includes the rearing of Angus cows. The estate encourages visits from the general public, providing a shop, a café, Christmas and Easter markets and garden displays. It is also possible to rent rooms and horse boxes for overnight stays, as well as venues for events, conferences and parties. Although the manor itself is the residence of the Ramel family, occasional tours of the building are organised.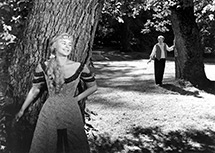 Bergman made his international breakthrough with this romantic turn-of-the-century comedy replete with razor-sharp wit, cunning mistresses, jealous lovers, partner swaps, love potions and duels. Bergman's funniest film, it won awards at the Cannes Film Festival and generally received outstanding reviews.
Directions:
Övedskloster is located by Road 104 at Vombsjön outside Sjöbo.
Points of interest:
Nobel Laureate Selma Lagerlöf's fictional character, Nils Holgersson, visited the manor and looked out over Vombsjön in The Wonderful Adventures of Nils.
A number of scenes from the British Wallander series featuring Kenneth Branagh were also filmed at Övedskloster.
In 2018, the TV drama series 12 was filmed at Övedskloster.
Öved Trail is a trail run which takes place every autumn, starting and finishing in Övedskloster's manor park. The various race classes offered are 10 km, 5 km and a 5 x 5 km relay.