Sawdust and Tinsel (1953)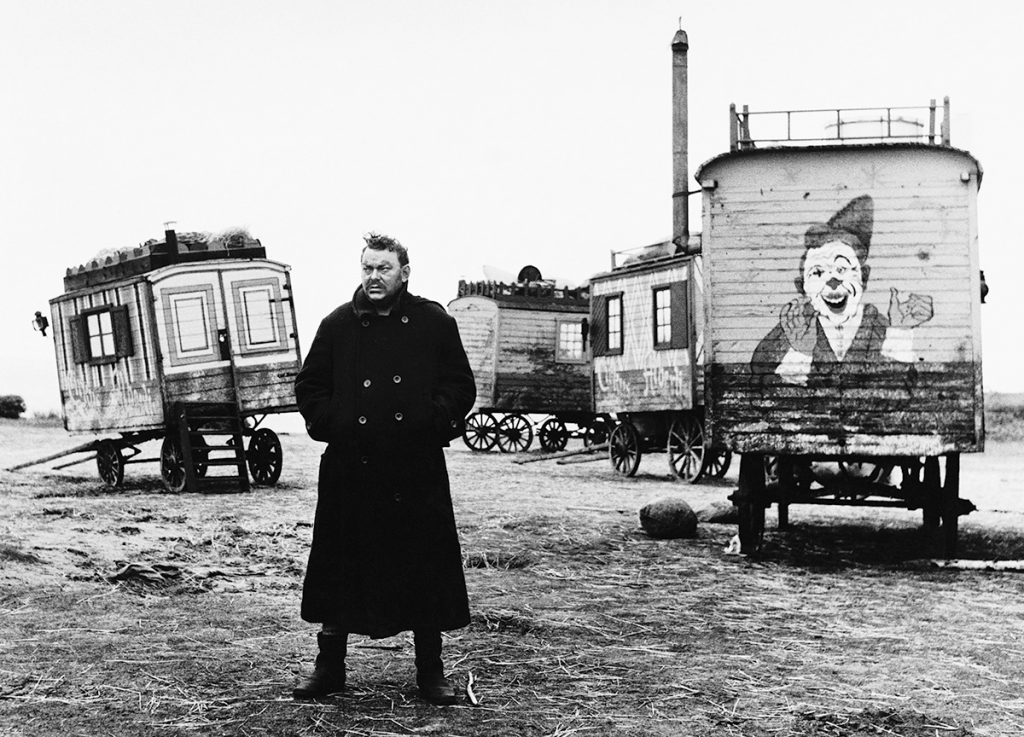 One of Bergman's most important films, Sawdust and Tinsel, is about a tawdry circus troupe on a disastrous visit to small-town southern Skåne. Ystad plays the role of small-town Skåne, and several scenes were filmed on location, including, for example, in Lilla Östergatan and Tvättorget – where the circus company draws up its horses and carts in the hope of attracting an audience for the evening's performance. The local newspaper, Ystads Allehanda, reported that a large number of residents either took part as extras or were curious bystanders, and that one particular Tuesday morning 'provided a splash of colour, as actors from Ingmar Bergman's forthcoming film Sawdust and Tinsel arrived on their horse and cart to advertise the evening's gala performance'.
Prominent too is the Ystad Theatre. This is where destitute circus director Albert (Åke Grönberg) comes, together with Anne (Harriet Andersson), his horsewoman mistress, to ask for the loan of some costumes – a visit with dire consequences.
One scene from the film is believed to have been shot in Viken, where the action passes by a house located on the corner of Martin Påls Guda and Skeppargatan.
Arilds Nabb is the location for the lengthy opening flashback scene in which Alma (Gudrun Brost), the wife of the clown Frost (Anders Ek), takes off her clothes to go for a swim and is made fun of by a company of soldiers who are on a training exercise in the area. The incident leads to the clown suffering a breakdown. During the course of filming, a rumour spread throughout Arild that certain risqué sights were possible, and villagers were soon hiding behind the bushes in the hope of seeing Harriet Andersson bathe naked – even if the deed was actually performed by Gudrun Brost.
It was also in a field above Nabben that the circus troupe set up camp. In a number of scenes, Kullen is visible in the background.